Local. Trusted. Family Owned.
Epoxy Flooring Northville, MI
Concrete Flooring
Northville, MI Residents Trust
Floors bear a lot of weight frequently, especially from humans and furniture. All the weight bearing eventually makes the floor susceptible to wear and tear, thereby reducing its appearance. That is why it is crucial to choose suitable flooring materials that will last a long time. Apart from this, you need professionals to help appropriately install your flooring. We provide epoxy flooring Northville, MI locals love!
Lyon Works, LLC proudly offers top-notch and professional residential epoxy flooring in Northville. Our team of experienced and knowledgeable professionals uses high-quality equipment to give you aesthetically appealing floors. We assure you that our epoxy flooring Northville, MI, services won't have you breaking the bank. 
Top-Rated Epoxy Garage Floor
Northville, MI Services
Installing your flooring yourself can be quite tasking and time-wasting. Why don't you leave it to our experts to take this hassle-free task off your hands? We are available to install floors in your garages, sitting and dining areas, kitchen, bedroom, patios, and much more. Contact us right away for your epoxy garage floor in Northville, MI. Our professionals make use of garage floor coating to help increase the lifespan of your floor. This coating would also give your garage floors an attractive sheen. Call today to learn more about our professional services!
This is what you need to know about concrete flooring in Northville. Concrete floors offer smooth surfaces that won't peel or scratch like epoxy floors. But, concrete floors can't resist chemical attacks like epoxy floors. This means that both types of floor are suitable for different areas in your home. The good news is that you can also coat your concrete floors with epoxy to make them more durable. Our team of epoxy concrete floor experts has mastered the perfect way to achieve this. We would also let you know the best flooring options to choose from.
We would advise getting an epoxy basement floor for your basements. This flooring would protect your basement from the damaging effects of moisture, as epoxy is waterproof. Epoxy also prevents the growth of water-living organisms like algae, bacteria, mold, or mildew. If you need epoxy floor coating contractors near me, you can contact us immediately. We also offer top-rated house washing, power washing, and more!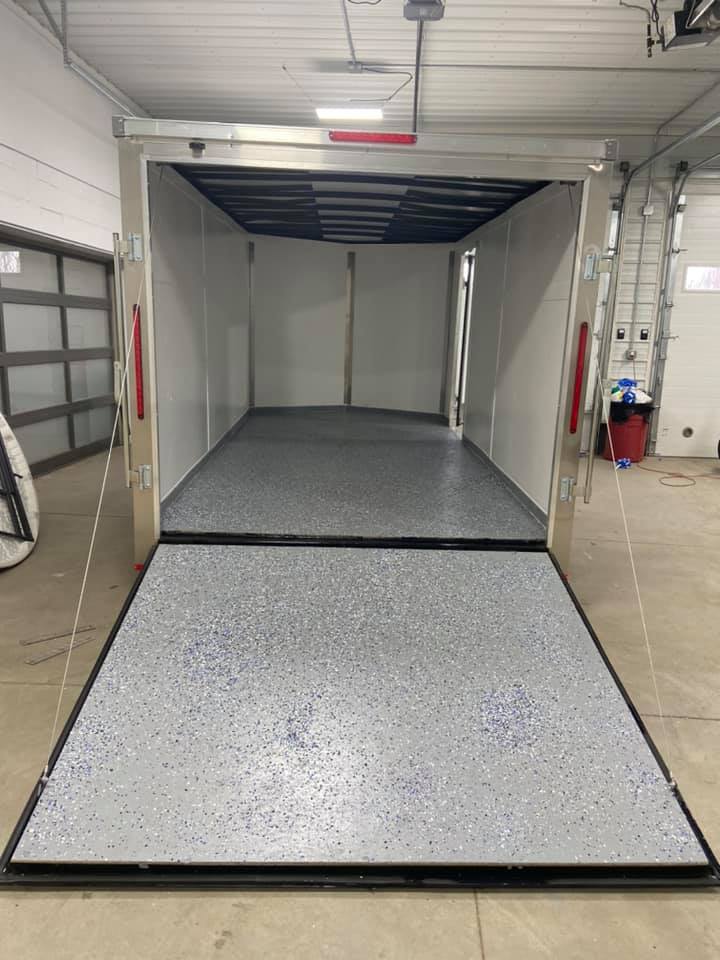 We hired *COMPANY NAME* for *SERVICE* and couldn't be happier with their service! From start to completion they were professional, on time, friendly, and were a pleasure to work with.
We couldn't be happier after the *SERVICE* service from *COMPANY NAME*. We will definitely be hiring them again in the future.
*COMPANY NAME* did an amazing job on our home. We would definitely recommend this company to anyone looking for professional *SERVICE*!
I highly recommend *COMPANY* to anyone who's looking for *SERVICE*. They were very thorough and reasonably priced as well!
Local. Trusted. Family Owned.
Searching for Northville Epoxy Floors Near Me?
Call Today for Epoxy Floor Coating
in Northville, MI!
Located in Oakland and Wayne counties, Northville has a population of almost 6000. Due to its low population, the city has a small-town atmosphere. Notwithstanding, there are many fun places to visit in Northville. You can check out Parmenter's Northville Cider Mill, where you will find cold-pressed apple cider and sumptuous donuts. This 4-star-rated cider mill is located on BaseLine Road and has picnic benches for customers to relax and eat. You should visit this mill if you need a perfect location to spend time with family or friends.
Are you searching for the best concrete flooring Northville, MI company? If yes, Lyon Works, LLC is your best bet and will have our professionals at your doorsteps in no time. Our friendly and attentive professionals are ready to take note of all your project needs. We are also available to install eco-friendly epoxy floors near me. Don't hesitate to reach out to us for your epoxy floor coating Northville, MI.